GREG FRADY, HEAD COACH
The Nanaimo NightOwls are pleased to have veteran respected college coach Greg Frady as the team's first head coach, agreeing to a five- year contract that will see Greg and his lovely wife Rhonda enjoying the Mid-Island area and the West Coast League for a long time.
In his first season Frady, who recently turned 60, led the team to a 22-32 record that was punctuated by a five-game winning streak to end the 2022 campaign — and left a great memory going into 2023 for the devoted fans at historic and revamped Serauxmen Stadium.
Frady is a Georgia native who now lives on the Gulf Coast of Florida — and he added to his personal accomplishments when he won his age group in the US Open of Pickleball in 2022. Yes, Greg is a competitive guy.
Frady, the first Head Coach of the Nanaimo NightOwls, brings a wealth of experience, networking, and community service to the role. Frady leads the coaching staff, plays a major role in the recruiting process and in baseball operations decisions, working with Managing Partner Jim Swanson and the coaching staff of Gorman Heimueller and Sean FitzGerald in filling out the roster.
Greg's list of accomplishments is loooooong. He was awarded the Lifetime Achievement in Coaching Ethics Award by the ABCA, following a 13-year tenure at Georgia State University. The former Head Coach and GM of the German National Team won a national championship as a college player while at Troy, then moved up the ranks with positions at Columbus State, North Florida College and Central Florida.
"Greg is the ideal fit for Nanaimo and our organization," said Swanson. "I have known Greg and his family since 2008, and Nanaimo is already enjoying having Greg and Rhonda become part of the community. This is a great coach — these are tremendous people, and they bring an energy and embrace the community."
Frady has 557 wins at the College level and won another 110 international games as a head coach, and over 1000 games as an assistant and head coach combined. As a player, Frady played in two World Series and won the National Championship DII in 1986. He is in the Hall of Fame at Gilmer High School, the Georgia Dugout Club and the German Baseball Federation. Among other notable accomplishments was a 39-win season, and leading all of NCAA D1 baseball in runs per game in 2010.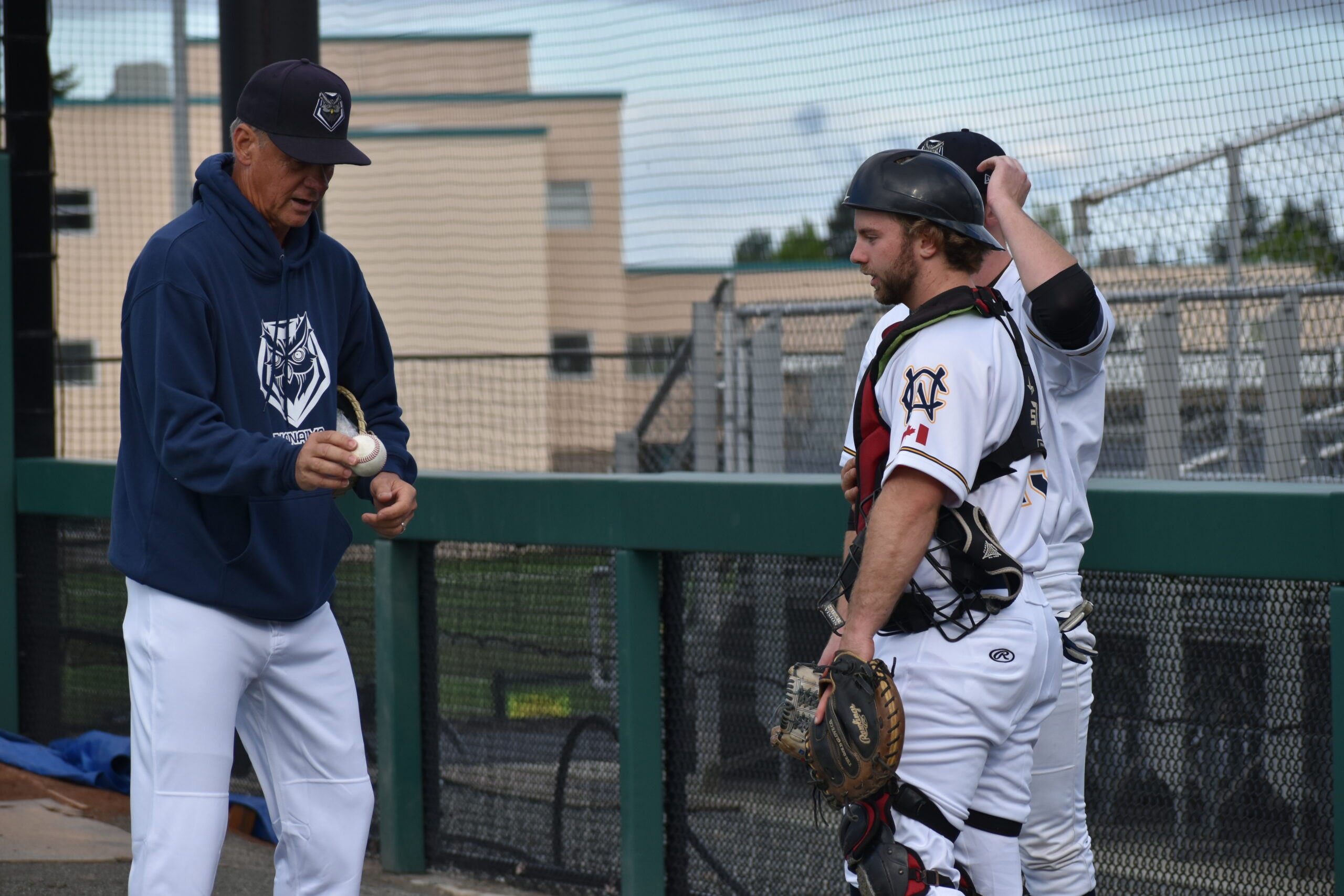 GORMAN HEIMUELLER, PITCHING COACH
The NightOwls organization is overjoyed to have one of the best people in baseball and best pitching coaches in the game as the WCL team's pitching coach, in the person of Gorman Heimueller, a former MLB lefty with decades of service in MLB organizations.
Gorm, youthful at 67, spent 34 combined years as a pitching coach or coordinator for the Twins, Dodgers, Phillies and Padres, after 10 years as a pro pitcher including time in Venezuela and two years in the starting rotation of the Oakland A's. Heimueller played college at Cal Poly (with a shortstop named Ozzie Smith behind him), then was signed as an undrafted free agent thanks to stellar outings pitching for senior baseball teams in Saskatchewan and Alberta.
"Gorm brings so much experience to our staff — our pitchers are very fortunate to have Gorm in Nanaimo," said Frady. "We share a lot in common in our philosophies, and he's worked with some of the best pitchers in the game, including guys I had at the NCAA-D1 level. He has playing experience at the top level, and that's a special attribute to bring to our ball club."
Heimueller was most recently with the San Diego Padres until cutbacks took place because of the pandemic. The product of Los Angeles now lives in Utah, but has Canadian connections — the 6-4 lefty met his wife Lee Ann in Eston, Saskatchewan when playing summer amateur baseball during his college days, and signed his first contract while playing in Red Deer.
Heimueller signed pro in 1977, and made his MLB debut as a starter on July 12, 1983, going seven-plus innings in a 3-1 Oakland loss against the visiting Baltimore Orioles, a team featuring Hall of Fame players Ripken and Eddie Murray. The A's that day featured a lineup with Rickey Henderson, Carney Lansford and Davey Lopes.
Heimueller would go on to a 3-6 record with a 4.67 ERA, making 14 starts among his 22 MLB appearances. He then joined the Twins organization (1987-97), later moving to the Dodgers (1998), Phillies (1999-2013) and Padres (2014-2020). He came highly-recommended to the NightOwls through the baseball network of Jim Swanson, the Managing Partner of the NightOwls.
Heimueller also played professionally in Venezuela, and coached in Australia. He has three World Series rings — 1987 and 1991 with Minnesota, and 2008 with Philadelphia — and has an impressive list of pitchers who have grown with his tutelage — Cole Hamels, Kyle Kendricks, a Canadian in Scott Mathieson, Scott Erickson, Willie Banks, Denny Neagle, and Pat Mahomes Sr., father of the NFL star quarterback. Erickson, Hamels and Neagle all received serious Cy Young consideration during their careers.
"The West Coast League is a place that develops future MLB players, and I'm glad to be a part of it," said the personable Heimueller, who can entertain for hours with stories of his time in the game. "Coaches want to work with players who have a chance to reach that next level, and that's what the NightOwls put on the field for fans in Nanaimo. Coach Frady is an outstanding leader of young men and I'm enjoying Vancouver Island and working with him. Canada has been an important part of my life, meeting my wife on the prairies and developing into a Major League player because of my time there."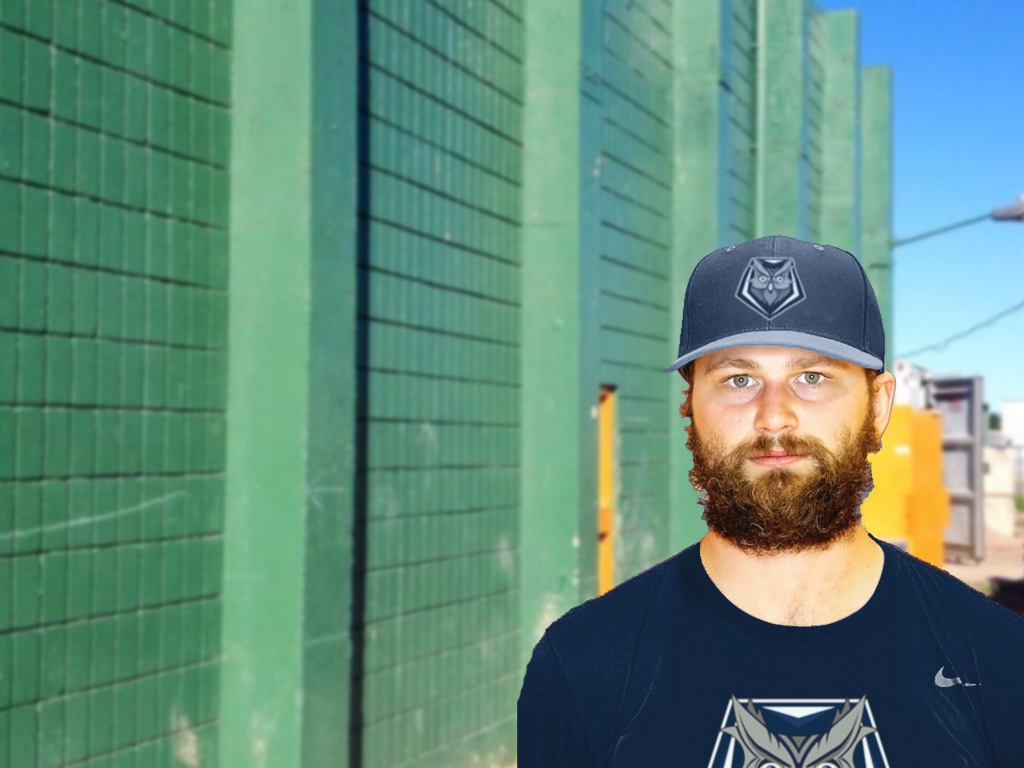 SEAN FITZGERALD, ASSISTANT COACH
The NightOwls are pleased to have one of the bright young coaches in the game on the staff in Sean FitzGerald, 29, who comes from Skagit Valley College of the junior college NWAC, where he has worked under head coaches Shane Servoss and Grady Twait. FitzGerald quickly became a trusted member of Coach Frady's staff in 2022 due to his knowledge of the game, his communication style with players, and his willingness to help out in any way on the road or around the park.
As a player, FitzGerald was known as a gritty and heady infielder and has a strong future in the game. Coach Frady uses FitzGerald as third base coach, while he is heavily involved in instructing hitting and infield during workout sessions.
Dr. Jordan Herbison (he/him), Mental Performance Consultant
The Night Owls are pleased to welcome Dr. Jordan Herbison to the team as their Mental Performance Consultant for the 2023 season. Jordan is a Professor in the Kinesiology Department at Vancouver Island University. He holds Ph.D. and Master's degrees in Kinesiology (specializing in Sport Psychology) from Queen's University, in Kingston, Ontario. His research program focuses on understanding and optimizing group environments in amateur/elite sport, exercise, and rehabilitation settings to enrich individual experiences, create participation opportunities, and develop effective leadership.