Big bats, three more booming bats, for a hitter-friendly park like historic Serauxmen Stadium.
Head Coach Greg Frady is proud to announce four new signings for the Nanaimo NightOwls for the 2023 season, the team's second in the West Coast League.
Current national junior team star Ty Doucette, Coombs, B.C. product Brandon Nicoll, exciting Wisconsin infielder Jax Hisle, who has family ties to the Blue Jays of their championship heydays, and crafty starter Buchan are the latest to join previously announced Tim Holyk and Aaron Marsh, both local infielders returning for a second tour of duty.
Nicoll was one of the best Canadians in all of college baseball in the spring of 2022, hitting .333 with 14 home runs and 84 runs driven in for the Southern Arkansas University Muleriders (D2) — not to mention 26 doubles and stealing seven bases. The 6-1/195 sophomore third baseman, a right-handed hitter and former Langley Blaze star, hit .329 in 29 games for Lethbridge of the WCBL in summer of 2022.
Hisle, from Mequon, WI, is the grandson of Larry Hisle Sr., hitting coach for the Jays in the early 1990s. His father Larry Hisle Jr. played pro ball for NightOwls GM Jim Swanson with the Grand Forks Varmints of the indy Prairie League. Jax Hisle, a switch-hitting infielder at 6-3/195, is an early-graduate out of Homestead High School who has the attention of pro scouts and was invited to the Hank Aaron Invitational elite prospects event. He will attend Parkland College (Illinois).
Circle this name because Doucette, from the other coast in Dartmouth, NS, will become a fan favourite — a monster first baseman/DH in a gap year after graduating high school early in Okotoks, and now spending a year training with prestigious TNXL Academy in Florida while he settles on a scholarship (he was previously committed to Oregon State University). Doucette will lead Canada at the World U18 qualifier currently taking place in La Paz, Mexico. The son of a slugger, longtime pro Darren, Doucette uses a 6-2/230 frame to drive the ball to all fields with power.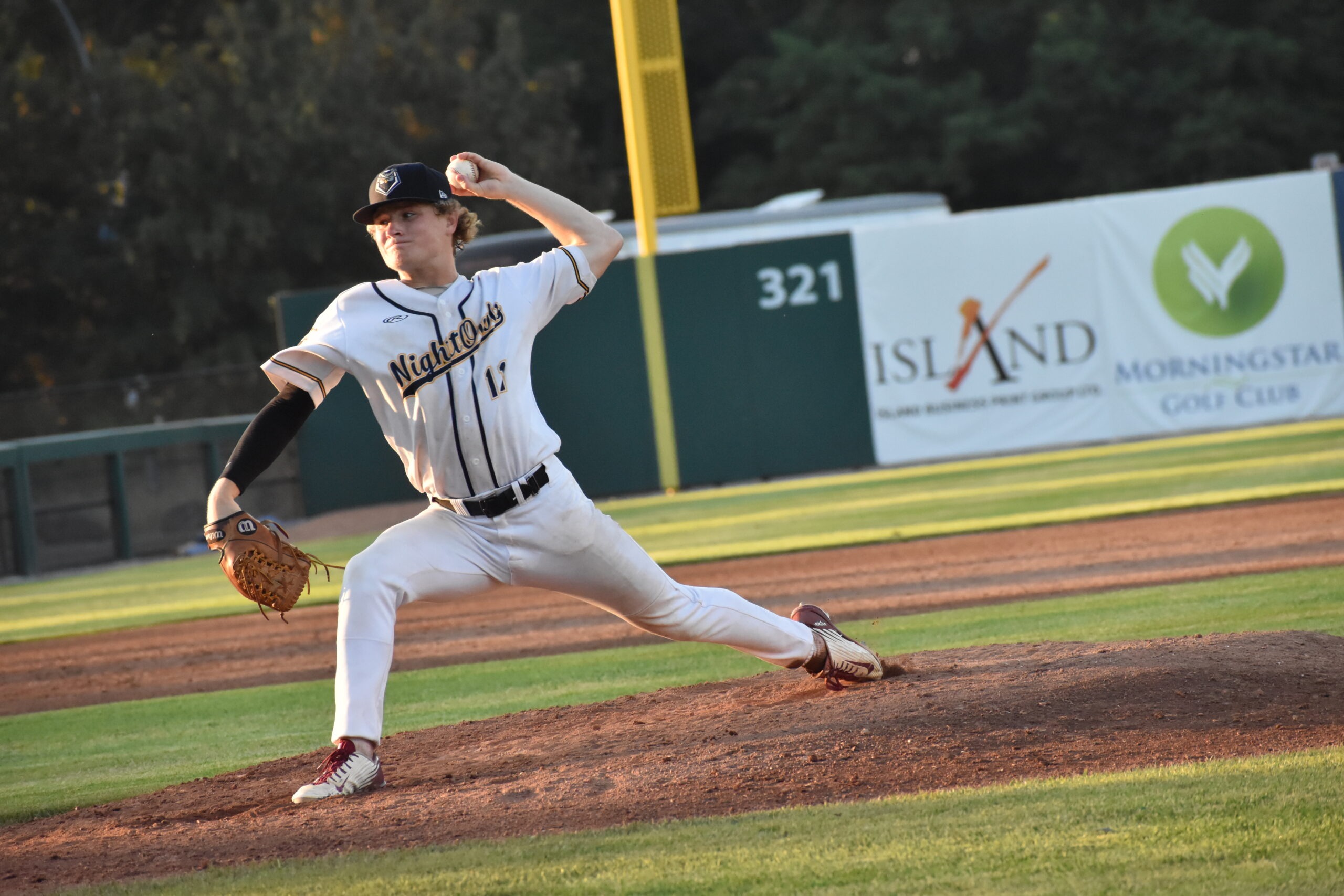 Buchan joined the rotation late in the season, making three starts and eating up 20 innings with just 14 hits allowed. He was 1-0 with a 2.70 ERA — and left with a lead in all three starts — and never went less than six innings. The University of Redlands sophomore is 5-10/175 and from Mercer Island, WA.
"We're working hard to add more power and depth to our lineup this season, which we lacked last summer," said Frady. "Nathan was simply outstanding for us last summer. Brandon brings a lot of experience and proven production, Ty is a big lefty bat, and Jax is as athletic as they come. These are players I'm excited to coach in front of our great Nanaimo fans."
The WCL schedule is soon to be announced, and season tickets are starting to fill the best seats in the main grandstand at historic and remodeled Serauxmen Stadium. CONTACT INFO, WEB, ETC