PORTLAND — Thanks to booming bats and stingy arms, the Nanaimo NightOwls are on the board.
The first-year West Coast League team recorded its first victory on Wednesday night at Walker Stadium in Portland, defeating the Pickles 9-2 behind strong pitching and a 12-hit attack that included back-to-back home runs by Tim Holyk and Isaac Kim in the first inning.
The NightOwls, under interim head coach Gorm Heimueller as Greg Frady arrives in a week, are 1-1 on the young season, with the third game of the series Thursday in Portland — before the 'Owls fly home to face the Edmonton Riverhawks on Friday Night in the home opener at historic Serauxmen Stadium (gates at 5pm, first pitch at 6:35pm).
Kyle Rosenfeld of Western Illinois went five strong innings, scattering six hits and giving up two runs for his first WCL victory. Liam Bates (Cloud County) fanned two in an inning of relief, followed by Johnny Beck (Western Illinois) fanning five and giving up two hits in three innings, to earn the save — first of his collegiate career.
The first win in NightOwls' history, and first save, go to WIU Leathernecks hurlers.
Nanaimo plated three runs in the first on a two-run opposite field home run by Holyk, then a mammoth home run from Kim. Nanaimo product Aaron Marsh's RBI single in the seventh extended a lead to 4-2, then key swings from Kim (single), Jake Vrlak (single), and a bases-clearing triple from Marsh, giving him four runs driven in already.
In the season-opener on Tuesday, the NightOwls got a late home run from Tobey Jackson, another first in team history, but fell 5-1 to the Pickles, with Garrett Goodall of Nanaimo taking the loss. Marcus Steen of Ladysmith recorded the first hit in team history with an infield single on the first hit of the game.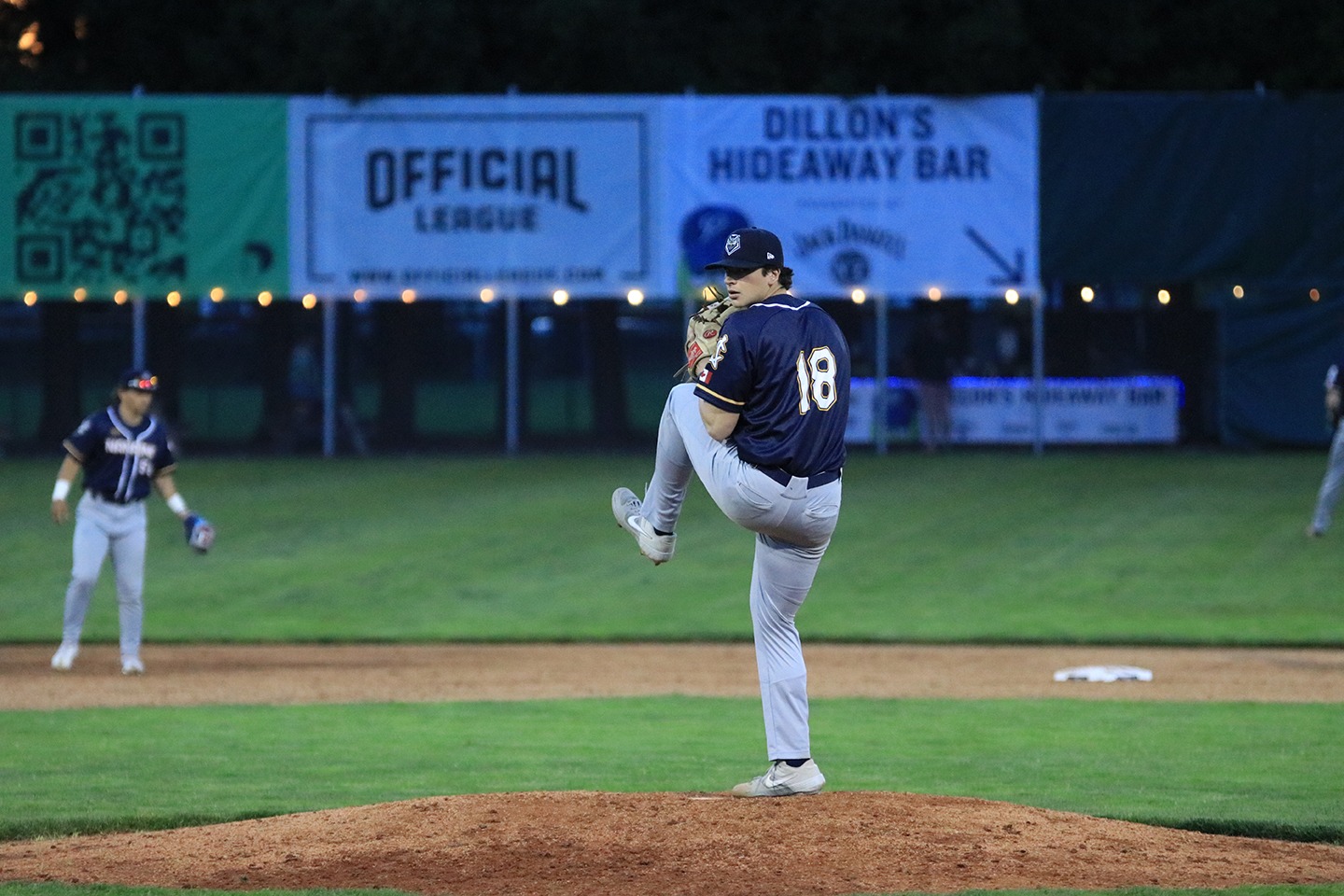 Josh Fluet of White Rock, BC, starts on the hill on Thursday for the NightOwls in Portland, while former Parksville Royal Seth Gurr, who calls Nanaimo home, starts the home opener on Friday, which will feature pre-game entertainment — including skydivers. The game is expected to be a sellout.
Saturday's game with the Riverhawks will feature a ceremonial first pitch from Dylan Coghlan of the Vegas Golden Knights, a local product. The three-game set ends with a 1pm game on Sunday, the first day game in team history and the first game the dessert-name Bars will be used, featuring gaudy yellow jerseys.
For tickets, schedule, merchandise and other information, visit the team website at nanaimonightowls.com, or follow the team's social media platforms.